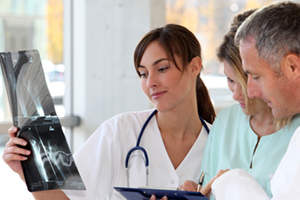 At the Gelb Sports Medicine & Orthopaedic Center, onsite digital X-ray technology provides convenience to patients and assists our medical staff in efficiently diagnosing musculoskeletal conditions. In addition to diagnostics, digital X-rays are also periodically used by orthopaedic surgeons to help evaluate the progress of treatment.
As with other medical personnel on staff at our orthopaedic practice, the X-ray technicians are expertly trained to assist patients and physicians alike. The staff X-ray technicians have many years of experience − producing optimal images for reviewing the area of the body being evaluated. Periodically, a patient will be asked to pose in such a way that facilitates the imaging process. X-rays used for diagnostic imaging are produced using low-level radiation at a targeted spot. The process is painless, yet significantly beneficial for proper analysis and treatment.
---
For some diagnosis of orthopaedic injuries, patients may be referred to radiologists for additional advanced imaging studies, such as MRI or CT scans, to confirm diagnosis. Individuals with questions about X-ray services should call our office:
Request an appointment online or contact us at 561-558-8898.
---