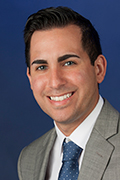 Brandon C. Maisel, D.O. is a non-operative sports medicine physician who completed his Sports Medicine Fellowship at the Andrews Sports Medicine and Orthopaedic Center in Birmingham, AL. He is also board certified by the American Board of Physical Medicine and Rehabilitation. Dr. Maisel grew up in Boca Raton, where he was an avid baseball player and graduated from West Boca Raton Community High School. He went on to complete his undergraduate degree in Biological Sciences from the University of Central Florida. Dr. Maisel obtained his osteopathic degree from Edward Via College of Osteopathic Medicine in 2017. He subsequently completed his Physical Medicine and Rehabilitation residency at SUNY Downstate Medical Center where he served as Chief Resident in 2020.
During his fellowship, he worked as team physician for the University of West Alabama and Briarwood High School. In addition, Dr. Maisel also provided medical coverage for the University of Alabama, 2022 SEC Baseball Tournament, The Birmingham Barons Minor League Baseball (Chicago White AA Affiliate) team, Samford University Basketball, Birmingham Southern College Basketball, the Mercedes-Benz marathon, and various teams in the United States Football League. In the summer of 2022, Dr. Maisel delivered medical coverage at "The World Games" in Birmingham, Alabama. Events included muay thai, jiu jitsu, karate, dance, korfball, floorball, canoeing and gymnastics.
Dr. Maisel has a particular interest in treating acute and chronic musculoskeletal injuries including bone, joint, ligament, muscle, and tendon injuries. To further assist him in treatment and diagnosis, he utilizes musculoskeletal sonography and performs ultrasound-guided injections. Injections/aspiration include however, not limited to:
Platelet rich plasma
Viscosupplementation
Various joints including hip, knee, and shoulder corticosteroid injections
Trigger Finger
Morton's Neuroma
Baker's Cyst
Ganglion Cyst
Dr. Maisel's expertise expands to non-operative treatment of peripheral nerve injuries (i.e. carpal tunnel syndrome), management of osteoarthritis, concussion, pre-participation physicals, sports related spine injuries and overall evaluation of an injured athlete. He works closely along Dr. Howard Gelb, physical therapists, and other health-related disciplines to provide well-rounded orthopedic care allowing patients to return to everyday activities and sports.
In addition to his professional pursuits, Dr. Maisel enjoys cycling, running, baseball and family time with his wife Alexandra and their beloved English bulldog Otis!